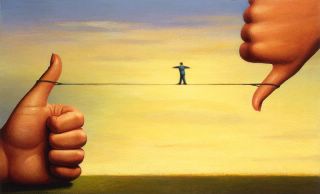 walking the line called bias...
"And the winner is…," screams the television anchor. Who is he trying to kid anyway? Why should he engage in all the histrionics and try and create suspense when the tale has already been told. Let me introduce you to the latest trend in the entertainment industry – Interactive Television. Game shows, music competitions, quiz shows and even beauty pageants, the audience has a say in them all. Let me not understate. The audiences give the final word.
The moment I switch on my television to watch my favourite show, a plethora of ads greet me. Vote for your best singer, the best quizzer, the most beautiful woman and so on.
Participants themselves shed out a bag of well rehearsed emotions in an attempt to reach the heart of the millions watching and en route maximise the number of votes. Tales of a lost childhood, fulfilling the wishes of one's parents, a dream that never came true, a handicapped brother, charity funds you have never heard of(fund for homeless aliens from Glitula) and in some cases, more than a little skin show – a few of the tactics employed by the participants to grab their share of sympathy and votes. It won't be long before a butcher who thinks that the notes in music are printed by the reserve bank of India will have the final say in deciding the best young singer of the country.
'Sa re ga ma' until recently staged the platform for exciting young singers to display their trade. Talented musicians rated them and eliminated the relatively lesser performers. Till the final round, everything was fine. And then there was interactive television. Presumably, a male oriented audience voted out the best of the male singers keeping the charming, voluptuous one on the stage. The butcher I mentioned earlier is quite certainly one of them. Quite sad! This is not an event to be singled out. This is just one of the instances among many.
Where are the channels headed? If the channels are planning to hike their TRP in the process, they might be very successful. But in the process they are losing the little credibility left in them. If they are doing it under the pretext of democracy, giving people the power, let them remember that power corrupts. Democracy may not be achieved, but democrazy definitely has been.