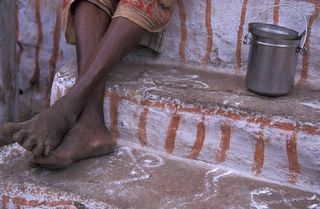 where r the slippers?

The most insignificant of things strike you as insights to life at the most unexpected moments. For e.g., when your office has choked you out with hours of boredom and you land at a snack bar. As you munch through your potato bun, half way through your third cigarette in 7 minutes, sitting besides a half empty bottle of mango juice; that is when the insight passes by you. For all the Holmesian observation, you might not notice it. Surprisingly, it is the Watson in you who catches it. It is a pair of feet – bare feet. It belongs to Muniyamma, the sweeper at my office.
As they ventured through the stony terrain unhindered, they threw me a gaze, an audacious one. They said, 'hey tough guy, what are you staring at.' I choked. The smoke I had inhaled had nothing to do with it. It was a thought that flashed my mind, which transformed into a sigh, clutched my windpipe and forced a choke out of me. It moved me. The ever-smiling old lady, in her late fifties I assume, with her equally old feet – I somehow felt a spark. I do not know what or how or why. I sat there for another half an hour before I walked back to my office. My legs were loose and my mind was heavy. It was on a spree, a meaningful yet a wayward spree.
I had to get her a pair of slippers. I have decided. I feel a sense of accomplishment on merely the thought. I had tea on the terrace just to talk to her, and stealthily take a visual measurement of her feet. She speaks Tamil and I speak Malayalam. We communicated in neither. I asked her the question –'Why don't you wear slippers?' I do not know whether she was offended, but I did not care. I wanted to know. She was waiting for her next salary to buy them. I do not know whether it was an honest reply. Whether she considered a pair of slippers a luxury rather than a necessity. She got up and ran off to the kitchen as if the sky would have fallen otherwise. I sat there for another twenty minutes. I walked down to my office and started writing. I took a break in between for lunch. I couldn't eat much. I will buy her a pair of slippers tomorrow. I stopped typing.